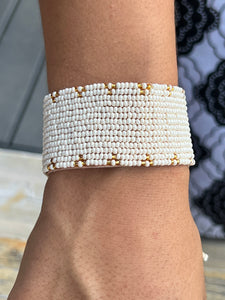 With this distinctive bracelet on your wrist – featuring 14 ecru rows of beads with gold accents -  you'll feel a connection to the greater good done by these products with a purpose. The closure features two strands of strong, soft leather you pull to hug your wrist and slide into place with brushed aluminum beads to set  
As you accessorize – change lives. Proceeds support our women Artisans and charitable initiatives as 100% of net proceeds are invested the Artisans and our innovative menstrual hygiene program, UhuruPads (East Africa's first 100% compostable sanitary pad, produced by a team of women for distribution to girls keeping them in school). 
Product Details:
Layered ecru beads stitched firmly onto kid leather:
Kid leather strands weave to close - accommodating wrists 6.5" - 9"