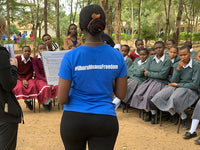 Our Products Have a Purpose
The true beauty of our handmade products is that, while those who buy them are assured quality, style, and comfort, they also provide East African girls and women with opportunity.

With no paid US employees, 100% of net proceeds from product sales benefit the women Artisans who make our beaded leather flip flops and other products. We also invest proceeds in our own UhuruPads menstrual hygiene product and program providing critical support for girls and women. Learn more here - and watch our impact video here!